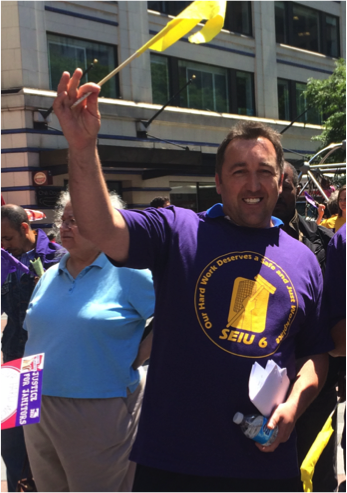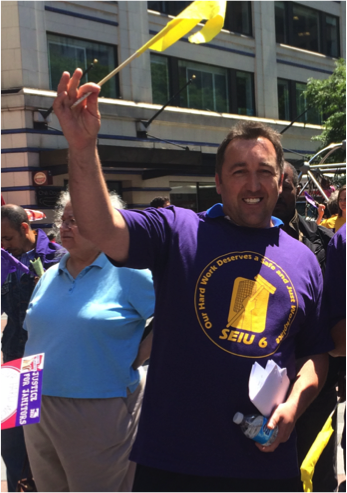 Hello, my name is Amir Kalabic. I am a proud union member with Local 6 in Seattle and a janitor for the last 14 years at Amazon's headquarters building. I'm also a proud husband and have been married for 23 years, to my wife who is also a janitor. I'm also a proud immigrant from Bosnia who came to this country 15 years ago to escape violence and keep my family safe. (I am also proud that I learned English in 3 months!)
Right now, I've been cleaning and disinfecting Amazon HQ where we've had confirmed cases of COVID-19. I want people to know that janitors are indeed on the front lines of this, disinfecting and cleaning buildings during this outbreak.
As the virus spread, many new chemicals were brought in, and we weren't trained on how to use them. As a result, janitors got nosebleeds, headaches, and rashes. Both my wife and I had bad reactions. Many of my coworkers were scared—not just of the virus, but of the strong chemicals we were using to fight it!
BECAUSE we have a union, we as janitors were able to come together to solve these problems. I was able to give an OSHA training to my co-workers, and we were able to talk about the latest best practices and information together. It feels like we have a team that's truly working together.
I am especially proud to be a union member during this pandemic. My wife and I have healthcare and paid sick days, and if our hours get reduced due to COVID19, we will still receive pay.
I believe ALL janitors across our country—and ALL workers—should have these same things: paid sick days, healthcare, and safe working conditions. And we need these giant companies to work together to make that happen. Together we can get through this.
Join me in calling on corporations and elected leaders to Protect All Workers, regardless of immigration status, with fully-funded and accessible healthcare, paid leave, and 100% paid testing and treatment for COVID-19.